What You Need to Know Grooming Cream Side Effects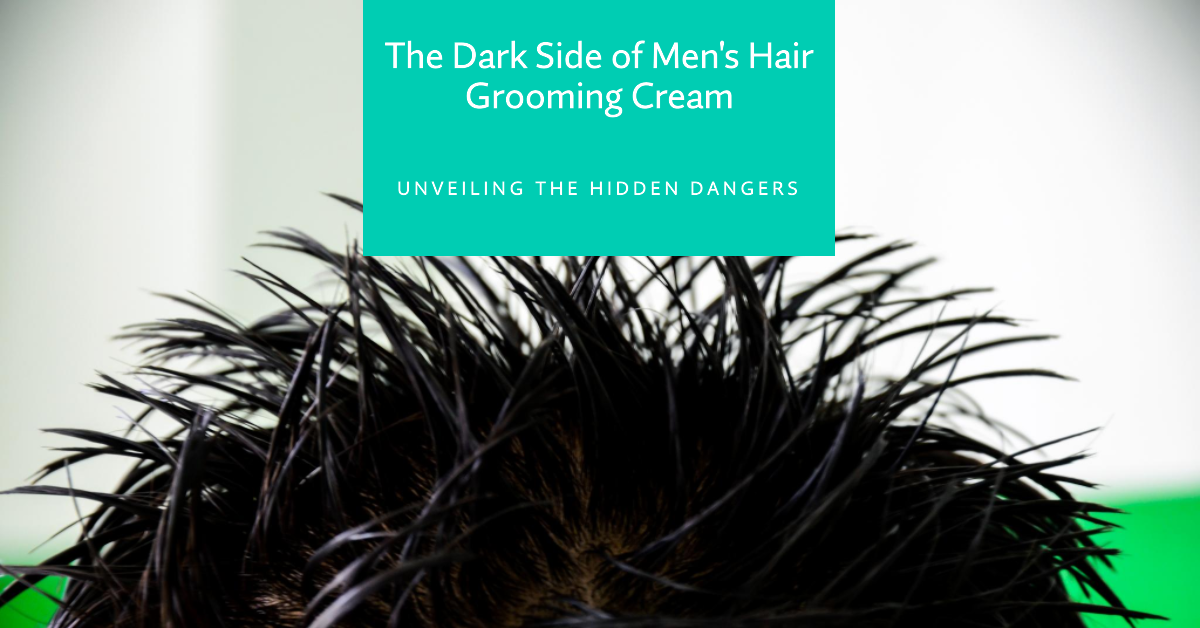 Men's hair grooming creams are essential for achieving that perfect look. However, it's crucial to be aware of the potential side effects that can arise from using these products. From chemical irritations to hair loss, this article delves into the various adverse effects and offers insights into choosing the right products for your hair.
Table Of Contents
Hair grooming creams have become a staple in many men's grooming routines. They offer hold, shine, and manageability, making them a popular choice for styling. However, like any product applied to the skin or hair, there are potential side effects to be aware of. Let's delve into the side effects of men's hair grooming cream.
1. Chemical Irritation
Presence of chemicals like calcium hydroxide and potassium hydroxide can irritate or even darken the skin. It's essential to be aware of the ingredients in your grooming products. For instance, Zorian of New York's grooming cream is designed with the modern man in mind, ensuring minimal chemical irritants.
"Choose products that prioritize natural ingredients to minimize the risk of chemical irritation."
2. Allergic Reactions
Some hair grooming products can cause skin damage and allergic reactions. Always conduct a patch test before using a new product. If you're looking for trusted brands, Zorian of New York has been a family tradition since 1931, offering premium products infused with natural ingredients.
3. Chemical Burns
Overuse or prolonged exposure to certain grooming creams can result in first or second-degree chemical burns. It's crucial to follow the recommended usage guidelines. If you're interested in learning more about application techniques, mastering the art of applying hair grooming cream can be a valuable resource.
Buy our Shaping Paste Right Now Here
4. Dandruff and Dry Scalp
Certain products can lead to a dry scalp, making it susceptible to dandruff flare-ups. Opt for products that maintain the scalp's natural moisture, like the styling gel from Zorian of New York.
5. Hair Loss and Thinning
Excessive use can cause hair loss due to breakage, clogging of hair follicles, or other chemical reactions. It's essential to strike a balance and not over-rely on grooming products. If you're concerned about hair loss, consider exploring the power of natural ingredients in grooming creams.
6. Receding Hairlines and Baldness
Prolonged use of certain grooming creams can exacerbate hair loss issues, leading to receding hairlines or even baldness. It's essential to give your hair and scalp regular breaks from styling products. If you're looking for a lighter alternative, consider using Zorian of New York's classic pomade for a natural hold without the heaviness.
7. Alcohol-based Dryness
Products containing short-chain alcohols can rob the scalp of its natural moisture, leading to dryness and brittleness. It's crucial to check the ingredients list and avoid products with harmful alcohols. For a product that prioritizes hair health, check out the shaping paste from Zorian of New York.
"Alcohol-free products are a must for maintaining the natural moisture of your hair."
8. Scalp Irritation
Ingredients like isopropyl alcohol, parabens, and propylene glycol can irritate the scalp. If you experience itching or redness, it might be time to switch products. Zorian of New York's collection offers a range of products infused with essential oils to promote healthy hair and skin.
Buy Our Styling Gel Right Now Here
9. Hair Drying and Dehydration
Some gels contain chemicals that strip hair of its natural moisture, leading to dehydration. To combat this, ensure you're using a moisturizing shampoo and conditioner. The finishing spray by Zorian of New York can also help lock in moisture and provide a finishing touch to your style.
10. Premature Graying
Frequent use of certain gels can lead to hair discoloration or early graying. While genetics play a significant role in graying, it's essential to be aware of the products you're using. For insights into top brands that prioritize hair health, explore Zorian of New York's blog on top brands in men's hair grooming.
11. Hair Breakage
Chemicals in some grooming products can weaken the hair structure, making it brittle and prone to breakage. It's essential to use products that strengthen and nourish the hair. For those concerned about breakage, Zorian of New York's grooming cream is formulated with natural ingredients that prioritize hair health.
12. Scalp Inflammation
Certain products can cause inflammation of the hair follicles, which can affect hair growth. If you notice redness, swelling, or tenderness on your scalp, it might be time to reconsider your grooming products. Always opt for products that soothe and nourish the scalp.
Buy Our Classic Pomade Here
13. Hair Brittleness
Lack of moisture can make hair brittle and more susceptible to breakage. Ensure you're using products that hydrate and moisturize, like the styling gel from Zorian of New York.
14. Hair Discoloration
Some gels and creams can cause hair color to fade or change, especially if they contain harsh chemicals. If you've colored your hair, it's crucial to use products that are color-safe. Zorian of New York's blog offers insights into the benefits of using the right grooming creams.
Tips for Choosing the Right Grooming Products:
Read the Ingredients: Always check the ingredients list. Opt for products with natural ingredients and avoid those with harmful chemicals.
Patch Test: Before using a new product, conduct a patch test to check for allergic reactions.
Consult a Professional: If unsure about a product, consult with a hairstylist or dermatologist.
Less is More: Avoid overusing products. A small amount often goes a long way.
Stay Informed: Regularly read up on the latest in men's grooming. Websites like Zorian of New York offer valuable insights and tips.
In conclusion, while men's hair grooming creams offer numerous styling benefits, it's essential to be aware of potential side effects. By making informed choices and prioritizing hair health, you can enjoy the benefits of grooming creams without the adverse effects. Remember, your hair is a reflection of your overall health and well-being, so treat it with care and attention.
FAQ
Q1: Are all men's hair grooming creams likely to cause side effects?
A1: No, not all grooming creams will cause side effects. However, products with harsh chemicals or ingredients that an individual might be allergic to can lead to adverse reactions. Always check the ingredients and opt for natural formulations when possible.
Q2: How can I identify if I'm having an allergic reaction to a grooming cream?
A2: Signs of an allergic reaction include redness, itching, swelling, or burning sensations on the scalp or skin. If you experience any of these symptoms, discontinue use immediately and consult a dermatologist.
Q3: Are there any natural alternatives to commercial grooming creams?
A3: Yes, there are natural alternatives available, such as creams made with aloe vera, coconut oil, or shea butter. These natural ingredients can provide hold and shine without the potential side effects of chemicals.
Q4: How often should I use hair grooming cream to avoid side effects?
A4: It's best to use grooming creams in moderation. Depending on your hair type and the product's formulation, 2-3 times a week should suffice for most individuals.
Q5: Can I mix different grooming products together?
A5: While it's possible to mix products, it's essential to be cautious. Combining products can lead to unexpected chemical reactions, increasing the risk of side effects.
Q6: Are side effects permanent?
A6: Most side effects, like irritation or dryness, are temporary and will resolve once you stop using the product. However, prolonged exposure to harmful chemicals can lead to lasting damage. If you're concerned about any side effects, consult a professional.
Q7: Are there specific ingredients I should avoid in grooming creams?
A7: It's advisable to avoid products with isopropyl alcohol, parabens, and propylene glycol, as these can irritate the scalp. Always opt for sulfate and paraben-free products.
Q8: Can I use hair grooming cream if I have a pre-existing scalp condition?
A8: If you have a scalp condition like psoriasis or eczema, it's essential to consult with a dermatologist before using any grooming products.
Q9: How can I restore my hair's health after experiencing side effects from a grooming cream?
A9: First, discontinue using the product causing the side effects. Consider using a hydrating shampoo and conditioner, and apply natural oils like argan or jojoba to nourish and restore your hair and scalp.
Q10: Are there any grooming creams specifically formulated for sensitive scalps?
A10: Yes, many brands offer grooming creams formulated for sensitive scalps. These products typically contain natural ingredients and are free from common irritants. Always check the product label for indications.