Unveiling Top Brands in Men's Hair Grooming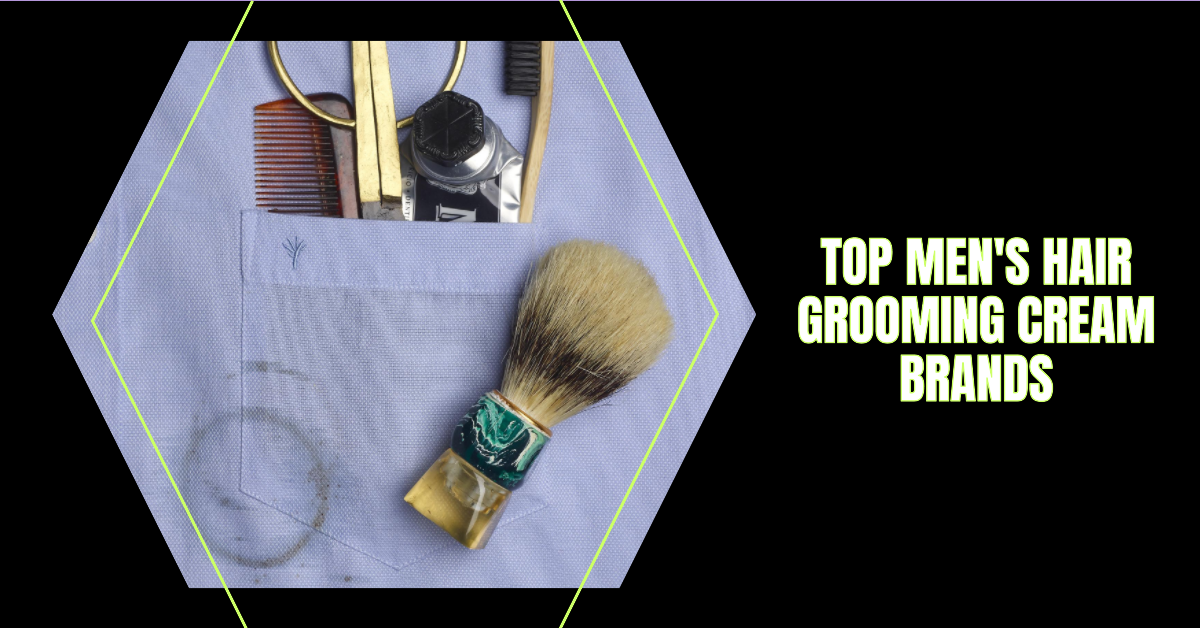 Top Men's Hair Grooming Cream Brands: A Comprehensive Guide
In today's grooming world, men have a plethora of choices when it comes to hair styling creams. From medium hold to high shine, there's a product tailored for every hair type and desired look. Dive into our guide to discover the top brands in the market, their unique features, and how they can transform your hair game.
Table of Contents
The Rise of Hair Grooming Creams
Hair grooming creams have become a staple in many men's grooming routines. Unlike traditional gels or waxes, creams offer a more natural look, making them perfect for everyday use. Whether you're aiming for a sleek, polished appearance or a casual, tousled style, there's a cream out there for you.
"Hair grooming creams provide the perfect balance between hold and flexibility, allowing men to achieve a variety of styles without the stiffness of gels."
Spotlight on Top Brands
American Crew Forming Cream
A favorite among many, this cream offers a medium hold with a medium shine. It's especially great for those with thick hair. The key ingredients include lanolin wax, sucrose, and glycerin, ensuring your hair stays conditioned and moisturized.

Jack Black Sleek Finish Texture Cream
This lightweight styling cream is a godsend for those battling frizz and flyaways. It ensures your hair stays in place throughout the day without feeling heavy.

Moroccanoil Hydrating Styling Cream
Dry, brittle, or dull hair? This cream is your answer. Apply it to wet or dry hair for a natural-looking shine. It's a game-changer for those seeking hydration.

Kiehl's Creme With Silk Groom
Think of this as your hair's daily conditioner. It ensures your locks remain soft and hydrated throughout the day.

V76 by Vaughn Styling Cream
For those intricate hairstyles, this medium-hold styling cream is your best bet. It comes with a warm, woodsy scent and is ideal for fine or thinning hair.

Hanz de Fuko Scheme Cream
This product offers the best of both worlds: medium hold and medium shine. It's versatile and suitable for a range of hair types.
Dive Deeper with Zorian of New York
At Zorian of New York, we pride ourselves on offering top-notch grooming products. Our grooming cream is a testament to our commitment to quality. Crafted with care, it's a must-have in every man's grooming arsenal.
For those seeking a stronger hold, our classic pomade is a great alternative. And if you're new to the world of hair grooming creams, our blog post on why every man should use hair grooming cream is a great starting point.
The Power of Natural Ingredients
One of the standout features of modern grooming creams is their emphasis on natural ingredients. From aloe to jojoba oil, these ingredients not only style but also nourish the hair. If you're curious about the benefits of natural ingredients in grooming creams, this article from Zorian of New York sheds light on the topic.
Continuing Our Journey Through Top Brands
Baxter of California Cream Pomade
This cream-based pomade stands out for its ease of application. Unlike traditional pomades or waxes, it offers a strong hold without the hassle. Infused with glycerin, beeswax, and candelilla oil, it's perfect for achieving a natural finish, whether you have straight or curly hair.

Malin+Goetz Sage Styling Cream
A versatile choice, this cream is suitable for beginners and seasoned stylists alike. Regardless of your hair length, style, or texture, this product has got you covered.

Aveda Pure-Formance Grooming Cream
A little goes a long way with this product. Enriched with spearmint, vetiver, lavender, citrus, and organic oils, it adds shine and volume to the hair, making it a favorite among many.

Larry King A Social Life For Your Hair Finishing Cream
Straight from London's premier hair salon, this cream is a celebrity favorite. Its unique scent combination of lavender and bergamot sets it apart from the rest.

Bumble and Bumble Grooming Creme
Ideal for defining natural hair texture, this cream doesn't weigh the hair down. Whether you're air-drying or blow-drying your hair, it's a reliable choice.

R+Co High Dive Creme
Not only is it known for its fantastic scent, but it's also perfect for refreshing hair ends. A must-have in every grooming kit.
Our Grooming Cream is available to buy here
Zorian of New York: Elevate Your Hair Game
At Zorian of New York, we understand the importance of quality grooming products. Our styling gel is a testament to our dedication to excellence. It offers a strong hold without the stiffness, ensuring your hair looks its best all day.
For those who prefer a matte finish, our shaping paste is a fantastic choice. And if you're looking for tips on how to apply grooming cream effectively, our guide on mastering the art of applying hair grooming cream is a must-read.
The Importance of Key Ingredients
When choosing a grooming cream, it's essential to pay attention to the key ingredients. These ingredients not only determine the product's hold and finish but also its nourishing properties. For instance, products with jojoba oil, like the Leonor Greyl Eclat Naturel Styling Cream, recondition and detangle the hair. On the other hand, creams with algae extracts, such as the Sachajuan Styling Cream, leave the hair feeling soft while taming frizz and flyaways.
Concluding Our Exploration of Top Brands
Christophe Robin Moisturizing Hair Cream
This cream is not just about styling; it's about hair health. Enriched with Moroccan oils, it hydrates both the scalp and hair strands, ensuring a healthy shine and soft texture.

Oribe Crème for Style
Representing the gold standard in hair styling products, Oribe offers lasting results. Whether you're aiming for a casual day look or a polished evening style, this cream ensures your hair stays in place.

Sisley Paris The Cream 230
A heat-activated hair cream, it's infused with precious botanical oils and a nourishing complex. Perfect for those who frequently style their hair using heat tools.

Scotch Porter Moisture Rich Leave-In Hair Conditioner
This product stands out for its hydrating properties. Enriched with aloe, kale protein, and biotin liposomes, it's perfect for curly and wavy hair types.

JVN Complete Air Dry Cream
A versatile choice, this cream smoothes and defines all hair types and offers humidity protection, ensuring your hair looks its best in all weather conditions.

R+Co Jackpot Styling Creme
With its bright, earthy scent and moisture-sealing properties, this cream is a favorite among many. It ensures your hair stays smooth and shiny throughout the day.
Our Shaping Paste can be bought here
Zorian of New York: The Ultimate Destination for Hair Grooming
At Zorian of New York, we're not just about products; we're about the experience. Our finishing spray is the perfect companion to our grooming creams, ensuring your style stays in place all day.
For those who want to explore our entire range, our styling collection offers a variety of products tailored to different hair types and styling needs.
User Reviews: What Men Are Saying
"I've tried numerous grooming creams over the years, but the Baxter of California Cream Pomade stands out. It's easy to apply and offers a strong hold without making my hair feel heavy." - Jake, 32
"The Moroccanoil Hydrating Styling Cream has been a game-changer for my dry hair. It adds a natural shine and keeps my hair soft throughout the day." - Liam, 28
Choosing the Right Grooming Cream: Tips and Tricks
Understand Your Hair Type: Different hair types require different products. For instance, thick hair might benefit from a stronger hold, while fine hair might need a lightweight cream.

Consider the Finish: Do you prefer a matte look or a shiny finish? Choose a product that aligns with your desired outcome.

Read the Ingredients: Natural ingredients like jojoba oil, aloe, and algae extracts not only style but also nourish the hair.

Experiment: Sometimes, finding the perfect product requires a bit of trial and error. Don't be afraid to experiment with different brands until you find the one that works best for you.
FAQ: Top Men's Hair Grooming Cream Brands
Q1: What is the primary purpose of a hair grooming cream?
A: Hair grooming creams are designed to provide hold and style to the hair while offering a more natural look compared to gels or waxes. They can also nourish and condition the hair, depending on the ingredients.
Q2: How is a grooming cream different from a hair gel or wax?
A: Grooming creams typically offer a softer, more flexible hold than gels or waxes. They also tend to give a more natural appearance without the stiffness or greasiness that some gels or waxes can produce.
Q3: Can I use grooming cream on wet hair?
A: Yes, many grooming creams can be applied to both wet and dry hair. Applying to wet hair can give a softer, more relaxed look, while applying to dry hair can provide more definition.
Q4: Are there grooming creams suitable for curly hair?
A: Absolutely! Many grooming creams, especially those with hydrating ingredients, are perfect for defining and taming curly hair.
Q5: How much grooming cream should I use?
A: It varies based on hair length and desired hold, but generally, a dime to nickel-sized amount is a good starting point. You can always add more if needed.
Q6: Do grooming creams leave a residue or build-up?
A: Quality grooming creams are designed to be lightweight and should not leave a heavy residue. However, it's always a good idea to wash your hair regularly to prevent any potential build-up.
Q7: Are there any grooming creams with SPF protection?
A: While not common, there are some grooming creams on the market that offer SPF protection. It's essential to check the product label or description if this is a feature you're looking for.
Q8: Can women use men's hair grooming creams?
A: Yes, hair grooming creams are versatile and can be used by anyone, regardless of gender. The primary consideration should be hair type and desired style.
Q9: How often should I apply grooming cream?
A: You can apply grooming cream daily or whenever you style your hair. If you feel your hair becoming greasy or weighed down, consider reducing the amount of product you use or increasing the frequency of hair washing.
Q10: Do grooming creams expire?
A: Like all hair products, grooming creams have a shelf life. It's best to check the product's packaging for an expiration date or use within a year of opening for optimal performance.