Santa Can't Beat These Deals! Shop Our Holiday Sale!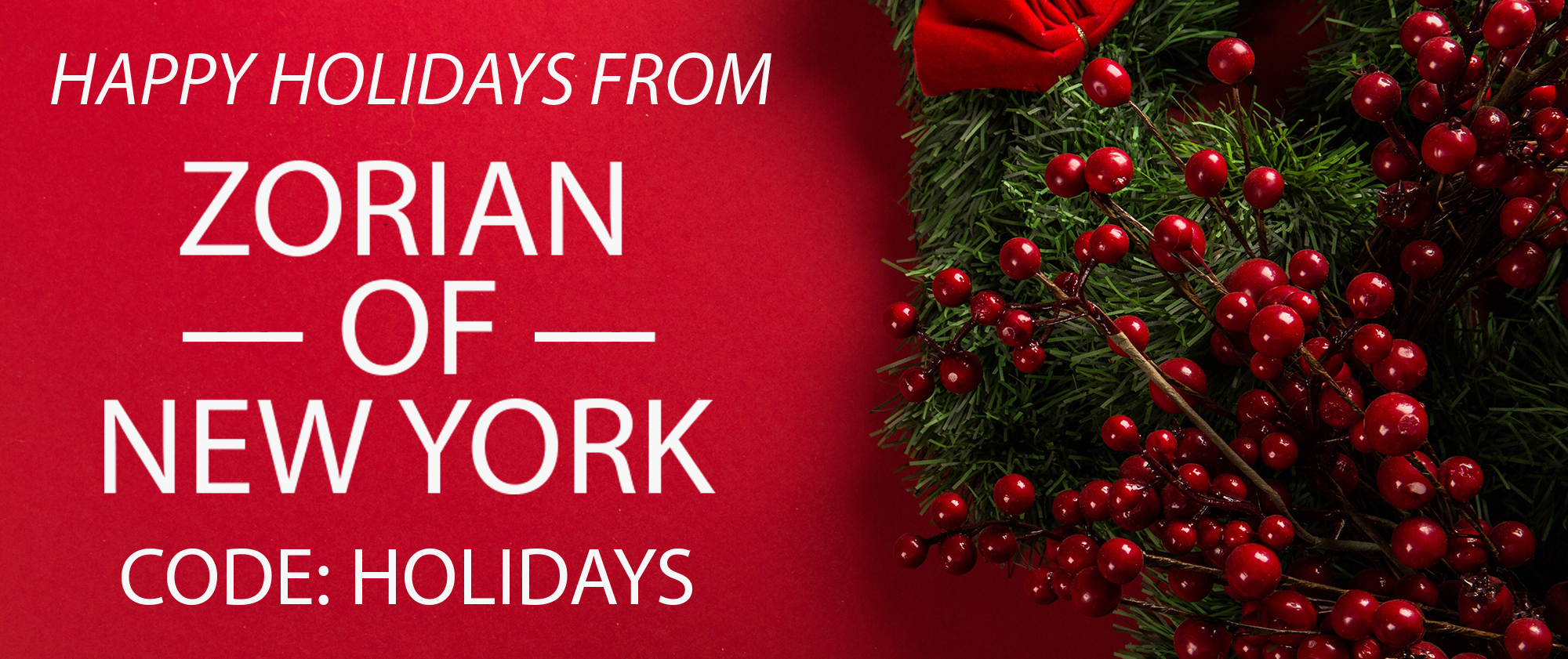 As Santa is out on practice runs with his reindeer, and his labor force of elves are working away on toys for billions of people, there is a person somewhere, who would love some Zorian Of New York products in their stocking. We know this is true! Why? One may be curious how we know this to be true, and the truth is: we just do. Clients come in our barbershops raving about our products quite often, and we ship them out all around the globe on a weekly basis. So, if you have that person in your life who likes to look sharp, use quality products, and knows when something is quality; we think they will love them some of our products!

Even better is the fact that we are running the hottest sale of the year. Some of our products are 50% off right now, and you can save even more by using the coupon code HOLIDAYS on your full-priced Grooming Cream, Shaping Paste, and Classic Pomade. These products were developed by our founder, Greg Zorian, who is a 3rd generation master barber! The product is made right here in the great state of New York. It isn't tested on animals, it is vegan, and it is sulfate and paraben free. What more can you ask for in a premium product?

Okay, general run-down of our 50% off products here we go!

Our 2 in 1 shampoo and conditioner is infused with natural ingredients including Eucalyptus, Peppermint Oil, and Tea Tree Oil. You can look forward to a cleansing product that will leave your scalp feeling refreshed and clean, and your hair will not be left weighed down like with most conditioners. This product is also sulfate and paraben free and will not strip your hair of its natural oils. It is only sale from $20 down to $10!


The shave lotion is a light semi-transparent lotion that is loaded with skin conditioner and mineral oil to soften the skin and help the razor glide easily. The Aloe Vera soothes the skin, and the Shea Butter is an anti-inflammatory which helps to prevent razor burn. Apply an ample amount of lotion and shave with the grain. Reapply and shave across the grain for a closer shave. On sale also from $20 down to $10!
Our Finishing Spray is a quick drying, non-sticky, light spray with variable hold. Infused with Pro Vitamin B5 to promote healthy hair growth and Aloe for soft hair and skin. Provides nourishment for instant conditioning and excellent frizz protection for straight and curly hair. Can be used as a stand-alone styling aid or used to add extra hold layered on top of any of the other styling products. Down from $22 to $11.
Premium Zorian of New York Pomade Trial Pack. Take advantage of this amazing promotional deal! Try out our 3 best-selling products! Down from $18 to $9
Our Grooming Cream provides a medium hold and medium shine. It contains Coconut and Lavender oils which moisturize your hair and scalp and also contain essential vitamins to help to strengthen your hair. It is perfect for any modern or classic hairstyle.

Our Classic Pomade provides a strong hold and rinses out with ease. It is infused with natural ingredients including Jojoba and Ginseng which add shine, moisture, and also help to strengthen your hair. The classic pomade is perfect for modern hairstyles such as pompadours, side parts, and fades with longer tops.

Our Shaping Paste contains Vitamin E which is a powerful antioxidant and Rosemary which gives the hair a thicker and fuller look. Shaping Paste is ideal for dry matte finished textured looks, Ivy League hairstyles, flat tops and brush cuts, or adding volume to thin or fine hair.

On top of the trial size pack of our three most popular products, you can get them in full-size and use the coupon code HOLIDAYS to save an additional 10% on those. This is a deal that Santa can't beat! Even with free labor! So, take a minute today to browse the website, and if you have any questions at all, reach out to us and we will make sure you select the right product for that special, well-groomed, somebody!